MINORS IN FOOTBALL
_____
EDUCATION AND TRAINING OF MINORS
MINORS WORKING AS FOOTBALL PLAYERS
MOBILITY OF MINORS IN FOOTBALL
_____
18-19 September 2017
Kiev, Ukraine
Hotel FAIRMONT GRAND HOTEL KYIV
Naberezhno-Khreshachatyts'ka St, 1, Kyiv, Ukraine, 04070
A think tank specialised

in Football Law
AIAF (International Association for Football Lawyers) gathers lawyers from all countries whose point of mutual interest is their professional practice in the field of football and who want to create and develop a professional network in order to exchange views and reflect on football law.
AIAF intends to be a main referent for public and private authorities that regulate football and to actively take part in the development of international and national football regulations.
Minors in football
"Minors in football" is a crucial issue in modern football. Clubs and national associations invest important sums in the training and education of young players. The protection of young football players is therefore a main priority for football bodies. In order to protect young players, as well as the teams and national associations investing in their education, FIFA imposes a complete legal framework regarding minors including a training compensation system, a restriction for the intermediaries and a prohibition of international transfers with some exceptions reserved to European transfer. These rules result from the particularly precarious living situation of the foreign underage players, who can become victims of abuse and exploitation from clubs or agents. Many national associations have also established similar protecting laws.
However, an increasing number of voices is speaking out against these regulations with serious arguments The major challenge is finding the right balance between child protection, the promotion of young football talents and the protection of training clubs. AIAF has a legitimate role in analyzing legal issues regarding this specific topic and in putting forward ideas for discussion whilst envisaging possible options for an improvement of the current system. All relevant issues regarding minors in football will be debated by several leading international lawyers and experts during the 5th AIAF Congress, held on 18 and 19  September 2017 in Kiev (Ukraine). There is no doubt that all attendees will gain valuable insights from this Congress.
Patricia MOYERSOEN
Lawyer – Paris
Subscribe to

our Newsletter
Subscribe to our free newsletter to receive news and information about the AIAF.
About the
Football Federation of Ukraine
The FFU is a national association, holding the particular mission to promote and develop football on the national level in Ukraine. The FFU also has an exclusive right to represent Ukrainian football in FIFA, UEFA and other international sports organizations as well as in international football competitions.
Founded on December 13th, 1991
In independent Ukraine, the FFU is a FIFA and UEFA member since 1992. However, it should
be mentioned that the FFU governs Ukrainian football, which has an over 100 – year history.
The Federation ensures staging a range of football tournaments in Ukraine on a regular basis: professional for men and women, youth, amateur (for adults and children) and grassroots ones.
The FFU promotes the development of Beach football and Futsal as well as students' and veterans' football, empowering the responsible national associations on national and regional level.
It has independent bodies of football justice; structural subdivisions of the FFU ensure the work in the different areas, separate units are responsible for marketing, education, licensing and other.
There is as well an independent national referee system. The FFU representatives are the members of the FIFA and UEFA Committees.
The UEFA EURO 2012
in Ukraine and Poland and the UEFA European U19 Championship 2009 final tournaments held in Ukraine present international organizational experience of the national association. In 2018 Kiev, the capital of Ukraine, will host the UEFA Champion's League Final and UEFA Women Champion's League Final matches.
The FFU is based in Kiev, in the House of Football.
President: Andriy Pavelko
General Secretary: Yuriy Zapisotskiy
Programme
5th AIAF Congress – Kiev 2017
Day 01
> 18 September 2017
Patricia Moyersoen, AIAF President, Layer (Paris – France)
Raffaele Poli, Head of the CIES Football Observatory (Neuchâtel – Switzerland)
Definition, protection and
mobility of "Minors"
Patricia Moyersoen, AIAF President, Layer (Paris – France)
Yuliya Morozova, Lawyer (Kiev – Ukraine)
SESSION 01


> Education & Training of Minors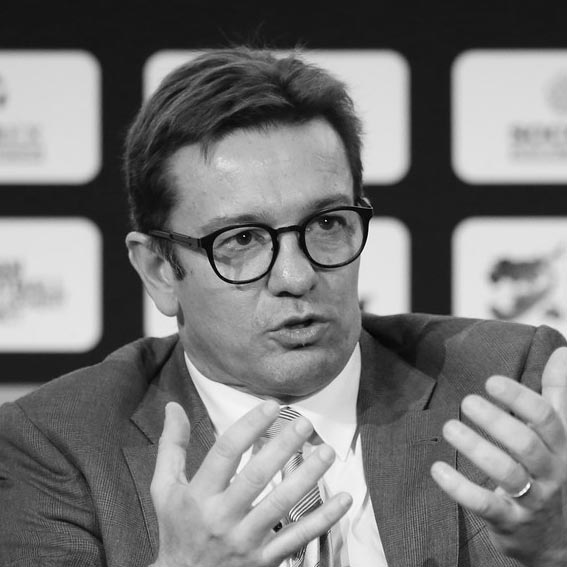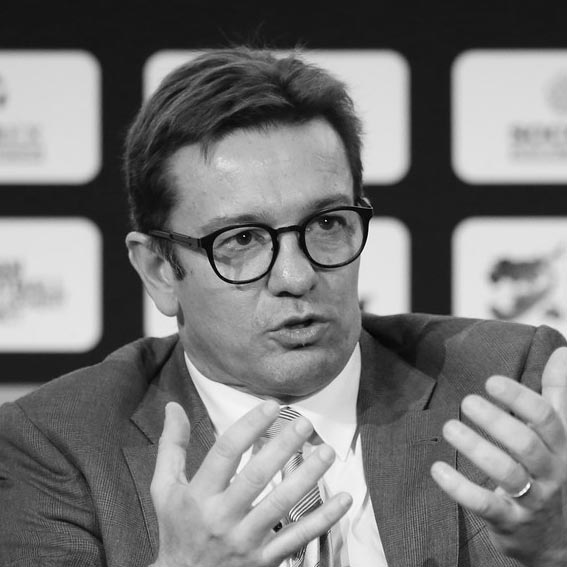 Who does (should) finance?
What is (should be) financed? What are (should be) the expected financial results?
• Clubs' training centers, football academies, National Football Schools, Private Companies: Different models of training and education of Minors
• Sporting benefits and Financial expectations (Training compensation, Solidarity contribution, Transfer fees)
Moderator: Daniel Cravo Souza, Lawyer, (Rio de Janeiro – Brazil)
Speakers:
Nasr El Din Azzam, Lawyer (Cairo – Egypt)
Igor Gryshchenko, Head of FFU Legal Department, Secretary of FFU Control and Disciplinary Committee (Kiev – Ukraine)
Andrey Kharitonchuk, Head of FC Shakhtar Legal Department (Kiev – Ukraine)
Legal issues
• What kind of contractual relationship between clubs and academies?
• Are children sufficiently protected (example of the child abuse scandal within UK football)?
• Football Education and Scholastic Education: what are the minimum standards?
Speakers:
Stephen Sampson, Lawyer, (London – England)
Karim Adyel, Lawyer (Casablanca – Morocco)
Sevan Karian, Lawyer (Paris – France)
SESSION 02


> Minors working as football players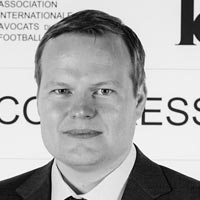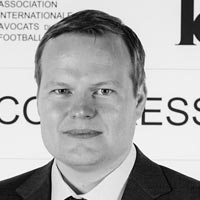 How to contract with minors?
Who is (should be) paid as a result of the work of minors?
Moderator: David Casserly, Lawyer (Lausanne – Switzerland)
Speakers:
Renaud Duchene, Head of Legal Sports, RSC Anderlecht (Brussels – Belgium)
Daan De Jong, Legal Counsel at European Club Association (Nyon – Switzerland)
Alexandra Gómez Bruinewood, Legal Counsel, FIFPro (Amsterdam – the Netherlands)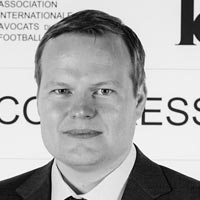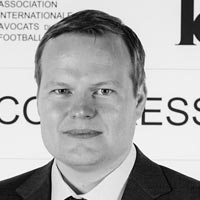 Legal issues
• Different types of professional players' contracts (examples of National Regulations)
• Obligation to sign the first professional contract with the club which provided the training?
• Role of intermediaries and the parents. Signature of the contract: Is the player bound by the contract signed by his parents?
Moderator: David Casserly, Lawyer (Lausanne – Switzerland)
Speakers:
François Klein, Lawyer (Paris – France)
Sven Demeulemeester, Lawyer (Brussels – Belgium)
João Nogueira Da Rocha, Lawyer (Lisbon – Portugal)
Markiyan Kliuchkovskyi, Member of FFU Dispute Resolution Chamber (Kiev – Ukraine)
Minors playing with
their national teams
• Case of bi-national players representing one country at youth international level and another at senior international level: FIFA Regulations and legal challenges
• Specific issue of Mexican players born in the USA
Speakers:
Horacio Gonzalez Mullin, Lawyer (Montevideo – Uruguay)
Ettore Mazzilli, Lawyer (Bari – Italy, Doha – Qatar)
Paolo Torchetti, Lawyer (Valencia – Spain)
Cocktail and Gala Dinner for AIAF Members and Guest Speakers
Day 02
> 19 September 2017
Patricia Moyersoen, AIAF President, Layer (Paris – France)
SESSION 03


> Mobility of minors in football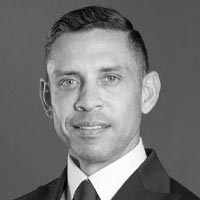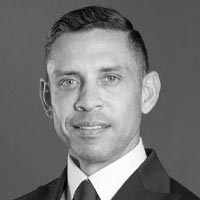 Transfering Minors:
FIFA Regulations & their enforcement
• Principle of prohibition of transfers/loans of minors (art. 19.1)
• Written exceptions (art. 19.2)
• The so-called "five-year rule" (art. 19.3 & 19.4); Unofficial exceptions?
• How to monitor international transfers of minors?
• The role of FIFA TMS
• FC Barcelona, Real Madrid and Atletico Madrid cases
• How do third parties promote careers of minors? Intermediaries? TPO/TPI?
Moderator: Marcos Motta, Lawyer, (Rio de Janeiro – Brazil)
Speakers:
Kimberly Morris, General Manager and Head of Integrity and Compliance at FIFA TMS (Zurich – Switzerland)
Lucas Ferrer, Lawyer (Barcelona – Spain)
Juan de Dios Crespo Perez, Lawyer (Valencia – Spain)
Legal issues
Speakers:
Juan de Dios Crespo Perez, Lawyer (Valencia – Spain)
Stefano Laporta, Lawyer (Rome – Italy)
Mélanie Schärer, Lawyer (Schindellegi – Switzerland)
Paolo Torchetti, Lawyer (Valencia – Spain)
And now, what's next?
• AIAF's proposals for a better system
• Responsibilities of football stakeholders
• Good practices
• AIAF's Recommendations
Speakers:
Joachim Rain, Lawyer (Ludwigsburg – Germany)
Sébastien Ledure, Lawyer (Brussels – Belgium)
Luiz Ribeiro, Lawyer (Belo Horizonte – Brazil)
Intended audience:
AIAF Members, counsels and lawyers, representatives of associations or federations, Clubs' officials, Players' Agents and Sport State Authorities and companies in the "sport business", sport channels representatives, media Specialists.
Venue:
The conference will take place at Hotel Fairmont Grand Hotel, Kiev – Naberezhno-Khreshachatyts'ka St, 1, Kyiv, Ukraine, 04070